January 31, 2014 in Uncategorized by Fritz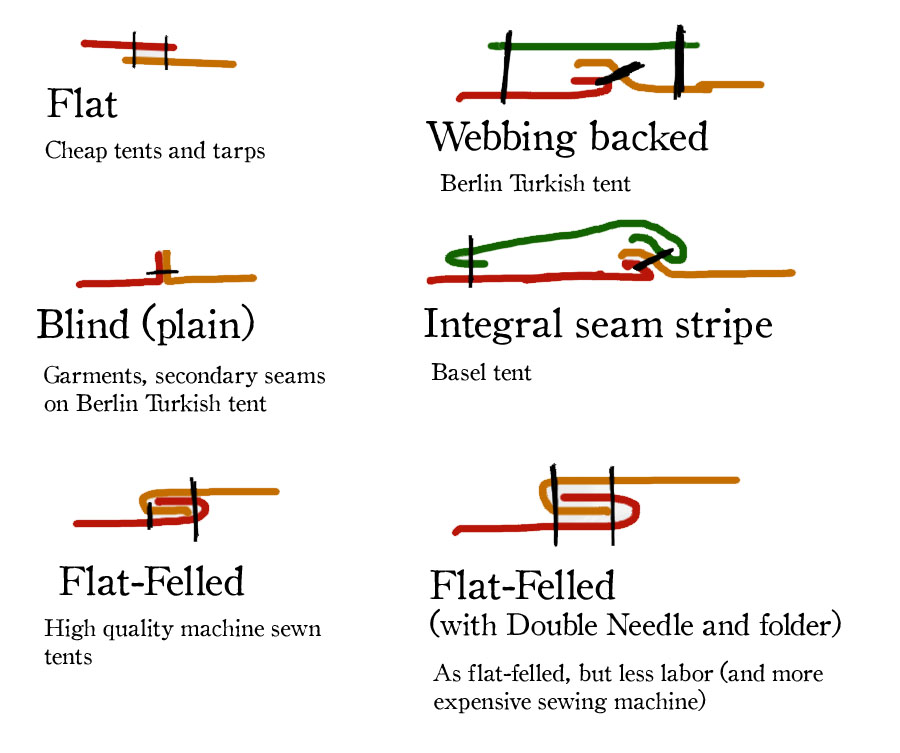 A quick sketch and some comments on some of the types of seams to be found on tents old or new.
Flat seam – probably only modern, very fast to produce on a double needle machine, esp. a double needle chain-stitcher.
Leaks like a sieve when under tension.
Plain – used on secondary seams of the Berlin tent (The panels are assembled out of multiple pieces to make most use of fabric)
Also leaks badly if under tension (but in the Berlin tent they are not structural and there is a liner in case it leaks a little bit)
Flat-Felled – the de facto standard for well made pavilions today. somewhat labor intensive since there are two lines of stitching and some careful prep/folding between stitching rows.
Very water resistant and strong
Flat-Felled with double needle and folder – performs similarly to flat felled, but preferred by many manufacturers because of lower labor (only have to push fabric through the sewing machine once)
Webbing backed – used on the primary seams on the Berlin tent (and I think on the Carlos V tent too. The webbing is the primary structural element, the canvas is mostly just a cover (this probably makes it last longer too)
Very water resistant and ridiculously strong
Integral Seam Stripe – used on the Basel tent, panels are cut with one straight and one bias edge, plus stripe itself is straight grain. The stripe covers the plain seam which is under tension and would leak badly
Very water resistant and strong
Originally I posted this on Facebook, but I thought it deserved being resurrected here.