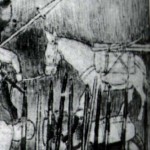 Free Shipping or Delivery on all Tents
If we will both be attending an event, I will deliver your tent to you free and give you personal set-up instruction.
If we don't have a mutual event, then I will cheerfully ship the tent to you (within the 48 contiguous states) by UPS ground at no extra cost.
If you want to ship outside the 48 states or via some other method contact me for details.
Lead Time
It takes me about two weeks to make a tent; depending, of course, on the tent. Total lead times are typically around 6 weeks, but vary based on how many orders are ahead of yours. Business picks up a lot in the spring, when everybody starts thinking about campaign season, so order early

Lead times expand greatly in spring.
Rush Orders
I don't much like to "rush", as I prefer to take my time and make sure that everything about your tent is "just so", but, if you waited too long and absolutely must have a tent for event XYZ , contact me and we can discuss the possibilities.
Shipping Materials & Sundries
Materials shipping costs vary widely.  I generally ship via UPS Ground or, for small packages, via Priority Mail.