March 9, 2013 in Tent Research by Fritz
Mughal era painting.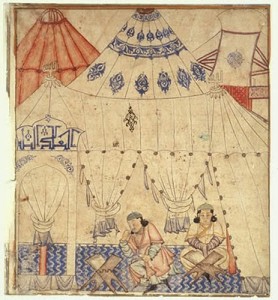 This is one of the rare pieces of period art that shows a method of closing doors on a tent.  I'm pretty sure Past Tents in the UK uses this method.
I've heard, from someone who owned a tent with this style of closure, that the very limited overlap made it difficult to get a good seal against stormy weather.
The other difficulty that I see is that the brass grommets used by other manufacturers are glaringly non-period.
I could hand sew grommets, but that would be prohibitively labor intensive (i.e. expensive) for most people.