August 7, 2013 in Uncategorized by Fritz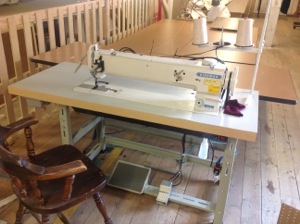 This years busy production schedule has resulted in, not only the move to a new shop space, but also the purchase of a second sewing machine. It's a 25 inch arm machine, which makes sewing in peaks much easier and has an extra high pressed foot lift, which makes stake loops easier.
It also does considerably longer stitches (10mm vs 6mm for the old Consew). This is actually really nice for seams (fewer penetrations of the fabric)
Overall I am very pleased with how it is working out.