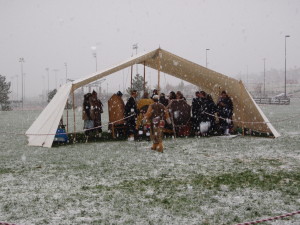 Winged Shade
The Winged Shade, aka BC, might actually be period. I have seen one piece of period art which has something that appears remarkably similar (read John LaTorre's article here). In any case, the design is certainly simple and effective.
As a type, they provide good shade, and a bit of wind block (depending on the direction). The triangular wings do help stabilize them, but they should probably be taken down in extreme winds.
Mine are made from the same 10 oz Sunforger fabric as my other tents, so they actually do provide reasonable cover in rain. This does make them a bit heavier though. If you want one in a lighter fabric, let me know.

Length

Width

Height

Price, Canvas only

Set-up Kit

Flame Retardant

Seam Stripes

14'
30'
11'
1400
700
200
170
no charge
14'
20'
10'
900
700
140
140
no charge
Prices include shipping
no charge
Want a size you don't see here? Contact Me for a custom quote.
no charge